Holiday Menus & Info
No matter which holiday you celebrate, Nortown can make it easier for you with our delicious selection of prepared foods. Let us be your chef and prepare a traditional holiday feast for you, your family and your friends.
Start with our traditional appetizers, soups and salads. Follow it up with the main course of beef, chicken, turkey, veal, duck or fish. Don't forget the flavourful sides of vegetables, potatoes, stuffing and kugel. Try our sweet dessert treats for a spectacular finish to a great meal.
Place your order from our holiday menu and we will prepare and box it so it's ready for you to pick up at your local Nortown store or have it delivered to your home or business.
Passover begins on the evening of Wedneday, April 8, 2020
Please phone or visit your local store to place your order.
ORDERS AND ANY CHANGES TO AN EXISTING ORDER MUST BE MADE
BEFORE 5 PM on

WEDNESDAY, APRIL 1, 2020

.
No new orders or changes will be accepted after this time. We need this time to organize and prepare your food.
CLICK THE IMAGE BELOW FOR A PDF VERSION OF OUR 2020 PASSOVER MENU.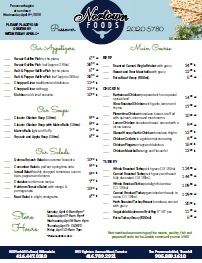 We also have a broader selection of prepared foods waiting for you at each store.